Do you ever have days when you think your To Do list is trying to kill you?
I mean actually creeping up behind you, like the dirty-haired girl who slithered out of the television in the movie "The Ring."
Well, I'm quite confident my list is out to get me today.
Everywhere I go, there it is: stuck to my computer monitor, on scraps of paper in my purse, on the back of a business card in my car console.
I can't get away from it.
When you're in startup mode, work follows you wherever you go. I bet that you can relate.
This morning the dirty haired girl tapped me on the shoulder.
Okay, not her so much as a total stranger standing in line behind me at Starbucks. He tapped me on the shoulder and then pulled a post-it note off of my sweater.
"Ah, you might need this," said the stranger with the perfectly shampooed hair.
It was the final straw.
Upward Mobility
I'm told that if I'd just move my To Do list off paper, I could—with the mere swipe of a finger—update multiple lists, across multiple platforms, all while keeping multiple people in the loop.
I know this. I see all you uber-organized, on-the-goers, updating and syncing and walking around all proud of yourselves.
But now I get it. And if it will keep the creeper (and the Post-its) off my back, I'm ready to give it a shot.
This week, I'm taking my To Do list mobile. Here are the four apps that I test drove. (Each made some expert's top pick list.) And the one that ultimately worked for me.
Which one will work for you? (Oh, and they're all free.)
Option 1: OneNote Mobile
I was obsessed with OneNote when I worked on a PC. It feels similar to keeping notes on paper, but with the benefit of search capabilities. It organizes larger projects nicely. (I researched and outlined an entire book in OneNote.) And it syncs with Microsoft SkyDrive and Sharepoint.
The mobile version is new since I moved to a Mac/iphone-based existence, but if I were a PC, I'd be all over this one.
Learn more and test it for yourself here: OneNote Mobile
Option 2: Wunderlist
At one point this was LifeHacker's top pick. In fact, it's the top pick of over 5 million people. This is due in part to its accessibility; Wunderlist works across all platforms and operating systems. Mac or PC, iphone or andriod.
One reason people rave about Wunderlist (and they do rave) is its simplicity. There's less categorizing and prioritizing than other apps. If a task is high priority, it gets a star. Period. No crazy ranking debate… is that a 1 or a 2? If it's important, and needs to get done soon, it's starred.
Wunderlist also allows you to add notes to task, something other apps don't. You can email tasks to yourself (or to others) as well as record tasks. The voice recognition is pretty spot on.
(I tried to fool it by using a British accent and saying things like "spot on," but it still got it right.)
And although the Brady Bunch-esque wood paneling background is not my thing, Wunderlist does have a very satisfying sound effect for finished tasks. Almost as rewarding as physically crossing something off a list. Almost.
Test this one for yourself here: Wunderlist
Option 3: Remember the Milk
This is one of the older options, which also means it has fewer bugs. However, its age is reflected in the overall look, which is a bit sad.
But beauty is only skin deep, and what's inside Milk is pretty spectacular. They've thought of everything in terms of making it easy to create your list, and keep it organized.
Milk has "Smart Lists" that automatically drop tasks into secondary folders based on criteria you set up. (Organize tasks by client, by project, by type of task.) So, your To Do's can be viewed by due date, or by Smart List.
Milk also has smart typing, making creating tasks quick and easy, even on a tiny phone screen. Type "13th" on a task and Milk marks the task due on 13th of this month. "Mon" means the next Monday on the calendar.
This app can be used on it's own or as an add-on to your existing calendars/email service. Reminders are sent out by email, pushed through desktop notices or text alerts. So there's no hiding from your To Do list.
I used Remember the Milk for several days and thought it would be my winner, but it wasn't. (Insert dairy based, lactose intolerance-type joke of your choosing here.)
It might be a winner for you, though. Check it out and see: Remember the Milk
Option 4: Mailbox (my winner)
As the name implies, this app starts with your inbox. That idea takes some getting used to, but really, it's kinda genius. Let's face it, your inbox is where a lot of work starts.
The goal of Mailbox is to keep your inbox at zero. As in…. nothing in it. So each day is a race to the bottom. There's even a different Daily Zero Pic to reward those who get it done.
This approach has changed the way I look at my To Do list and my inbox.
Think about it: how many emails do you receive that you can't act upon immediately? Emails that need a lengthy response. Or have info you need to file somewhere before the email can be deleted. Or that need an attachment you can't access from your phone. Or, or, or.
These emails weigh down your inbox, and in your subconscious, as they stack up waiting to be dealt with. And that weight slows down your progress.
Psychologists call this the Zeigarnik effect, or "that niggly feeling you get when things aren't finished." (My scientific term.)
Basically, our minds seeks the satisfaction of crossing things off the list. So if you leave tasks undone, regardless of the size of the task, the mind returns to thoughts about the incomplete task and draws attention away from the important stuff.
Mailbox pushes you toward completion of these niggly tasks. (You can snooze each email/task to a specific time, delete, file or reply and mark complete.)
Add the bigger tasks, those that don't organically start in your inbox, by simply emailing them to yourself with the task in the subject line.
What's left in your inbox are those tasks that really deserve your attention; the To Do list items that really affect your business and that deserve immediate focus.
See Mailbox in action here.

Special Delivery
A few of the cool features that are working for me:
Prioritizing my inbox by dragging and dropping items to keep first things first.
Snoozing the smaller things so I won't get distracted. (With a single, satisfying, swipe. A long swipe right deletes, and short swipe marks as completed. Swipes to the left open snooze options or drops email/tasks in your files.)
Sending attachments from my Dropbox account directly from my phone.
With a few minutes of tinkering* I was able to sync Outlook so my desktop inbox matches my phone. (For example, if I delete or file an email/task on my phone, changes are reflected in Outlook. No duplicate work.)
*Follow these steps to set up Mailbox to work with Outlook
+
*Setting It Up
Mailbox runs through Gmail. Although I have a personal Gmail address, I refuse to work inside of the Gmail platform. It's clunky, ugly and the ads are annoying.
Turns out, with a few quick work-arounds I was able to route my business email addresses through Gmail. Now everything I do in Mailbox is replicated in Outlook. This serves the added benefit of keeping a copy of my work emails on the gmail server.
(If you don't already have a gmail account, set one up here. It's free.)
Step 1: Go into your gmail account and click the setting icon in the top right hand corner.
Chose "settings" from the drop down box.
Step 2: Click Accounts from the top tabs, then click "add another email address you own" from the "Send Mail As" section.
A pop-up window will appear.
Step 3: Simply type your name and the email address you'd like to have routed through Gmail and click "next."
You'll be given the option to send the emails through Gmail, or route them from your hosting provider.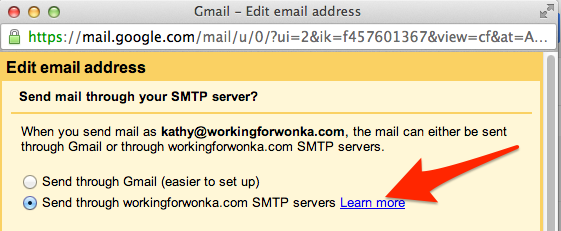 Step 4: If you want your reply emails sent from within Mailbox to have the "from" email address that they were originally sent to, you should chose "Send through 'yourdomain.com' SMTP servers. (Otherwise simply choose "send through gmail" and you're done! If you chose this, all of the emails you send from within Mailbox will be sent from your gmail address.)
If you want to control the return email address, you'll just need the SMTP Server and port information for those addresses.
Don't worry, you can find this info inside Outlook even if you didn't configure the emails yourself originally.
Just open your Outlook preferences and find your account settings. Copy exactly what you see in the Outgoing Server section for the appropriate email address.
On a Mac it looks like this:
Copy the "Outgoing server"  url and put it in the "SMTP Server line" in the Gmail form. Select the right port number from the drop down menu and make sure the SSL or TLS matches what you see in Outlook.
Gmail will send a verification email to the address you're routing. Simply click verify and you're done!
Every email address you route through Gmail will now appear in your Mailbox app on your phone. And if you delete the email on your phone, it will be deleted from Outlook and your Gmail inbox.
Files, Folders and Labels
Mailbox only recognizes folders that you've set up inside of Gmail, not your Outlook folders….unless you've put them in the right place. (Nested under the Gmail inbox.)
Again, don't sweat this. It's very easy to set up folders in Gmail, and they'll appear in your Outlook automatically. (And vice versa, if you put them in the right place in Outlook.)
Having these files (or labels as Gmail calls them) is helpful for those emails or tasks that you need to store. Follow these simple steps to set them up:
Step 1: On the left side of Gmail you'll see your inbox and a "mailbox." Open the dropdown menu for the mailbox and chose "add sublabel." (Note: gmail calls these folders "labels.")
Name your folder/sublabel and chose "nest under mailbox"  from the dropdown menu. That's it.
Step 2: Inside Outlook your Gmail folders are listed on the left side under Gmail. (In this case mine says "Gmail – Personal" because that is how I set up my gmail account.)
But you can see that all of the folders I set up on Gmail appear in Outlook. If I move emails in this section of Outlook, or even entire folders to this area of Outlook, and refresh the screen in Gmail, it will sync.
Filing from Mailbox
Now that you have everything synced, and have files/folders on both Outlook and Gmail, anything you do in Mailbox will happen across all of your platforms.
So let's say I receive an email with login details that I'll need to reference later. If I open the email in Mailbox on my phone, and give it a slow swipe to the left, the list of files/folders that I have set up under Gmail appear.
I simply chose the where I want to put the email and viola, it has been stored in Outlook as well.
Groovy, huh? (People still say that, right? No? Oh.)
Fear and Making the Switch
Confession: I'm excited about Mailbox and I'm sold on the idea of fighting the Zeigarnik effect with a zero inbox plan. However, I haven't completely let go of my paper list.
There are two reasons for this: first is my affinity (obsession?) for colored pens.
Second, is my fear of total and complete failure.
What happens if I put all my notes, and To Dos, and hopes and dreams into one service, and then that service has a technical glitch? Or worse, the startup behind the app goes under.
What happens then? Surely all my hopes and dreams (along with my notes and lists) all go under too. It's the end of the world as we know it. Total failure.
What's that you say? I'm being paranoid?
Yeah, I think we established that with the whole "my To Do list is trying to kill me" thing. But I'm working through my issues.
So How About You
Are you ready to make your To Do list your bitch?
Look, working in a startup, or as a solopreneur, is a feat of mental athleticism. Getting through each day takes the kind of focus usually reserved for juggling chainsaws.
You don't have the luxury of being distracted by unfinished tasks.
You know what needs to get done to move your business ahead.
You also know where brain drain comes from. It comes from the tiny tasks that suck away your day, and with it, the will power you need to focus on the important stuff.
I'm moving to a zero inbox plan. I've even put "pack up colored pens" on my To Do list. (We'll see how that goes.)
What will you do to take control?