Impressing an entrepreneur is about more than just the work. Forty-five ways to impress the boss. (You know you want to!)
Hollywood says for every bad boss, there's a bad murder plot.We've got a better idea, along with tools that won't land you in jail.
It's can be the little things that your boss does that make you crazy. Did you ever think that you make your boss crazy too?
How many hats can you juggle? It's a necessary skill in a startup. Are you cut out for it? Take our (very unscientific) quiz and find out.
Almost 80 percent of entrepreneurs say they're happy they don't have a boss. Things that make you go hmmmm.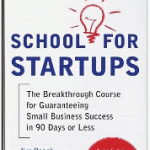 This new book on startups challenges all of your (okay, my) preconceived notions about entrepreneurs. Written by an entrepreneur who fits all my preconceived notions.
Getting in the door at a startup can be tough, but recent grad Charlie Hoehn may have the key.
Job interviews with entrepreneurs are unlike any interview you've been in before. And sometimes the less you say, the better.
Do you have an MBA? A successful entrepreneur says you've wasted your time, and tells his colleagues you're not a good bet to hire.
Thinking about quitting your job with a start-up? Be Sure. It may be an insult you can't recover from.